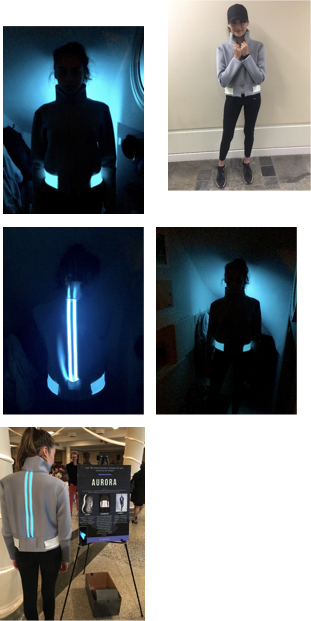 The Aurora Jacket is an athletic jacket made to be casual enough to wear during the day and sporty enough to wear on a jog at night. In darkness, the jacket contains safety features including a vinyl EL panel strip and engineered glow fabric. The 9V battery powered el panel can be controlled by the touch of a button. It flashes or it can stay on continuously. The glow fabric can charge from the sun's natural light or artificial light, emitting the energy it absorbed in the dark, therefore creating the glowing effect.
I am very pleased with the outcome of my project. I just wish I had more time to do more to the design!
The Aurora jacket matches my original project end goals quite well. I originally knew I wanted to create the effect that reflective material gives but not just when light shines on it. I think my jacket can be very well seen at night. The only difference from my beginning plan is that it is missing the light sensor that would allow the automatic turning on of the lights when sensing low light conditions.
Finding the correct materials was a challenge. It took up a lot of time researching what materials I wanted to buy. Neoprene fabric is offered many places online but shipping was where I ran into problems. There is also apparently several different types of fabrics called neoprene because my first order was not the correct material! I had to call customer service the second time to make sure I was ordering the correct material and I had to buy expedited shipping. I found the glow fabric company on the library's database and was lucky enough to get a rapid response though email from them. The vinyl EL panel strip I found last minute and came in the mail the final week the project was due…very risky, I don't recommend relying on last minute shipping!
If I had more time…. I would have liked to work on the light sensor and get it working to the extent that it would automatically adjust the brightness of the lighting on the jacket according to your surroundings, similarly how our phones automatically adjust the screen brightness. I would have also liked to work more with the laser cutter and include the el paneling behind a really cool laser cut pattern. Note: the neoprene worked awesome with the laser cutter when I tested it. It's very compatible and turns out really well.